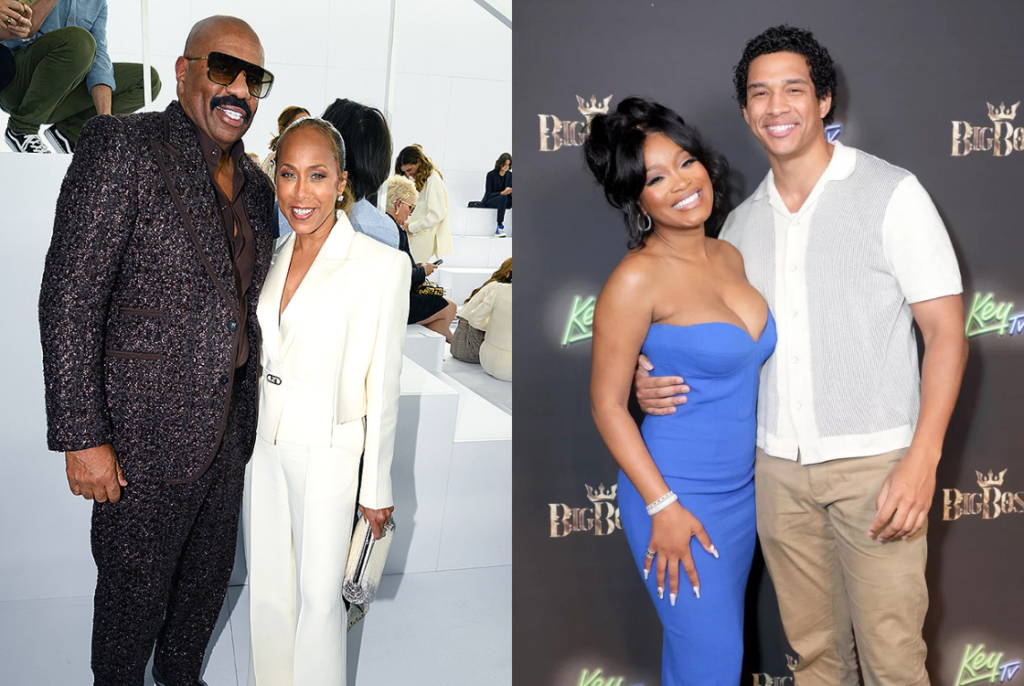 In a world where social media fuels the fire of sensationalism, it's all too easy to get swept up in the whirlwind of relationship dramas that play out on our screens.
From Steve Harvey's supposed divorce saga to Keke Palmer's birthday celebrations with 'estranged' baby daddy, we're often bombarded with headlines that tantalize our curiosity.
But let's take a step back, shall we? In the era of oversharing and overreacting, it's high time we all learned the value of minding our own business when it comes to relationship matters that don't involve us.
The buzz surrounding Steve Harvey's alleged marital troubles is a prime example of how rumors can wreak havoc on even the most seemingly solid relationships. With social media buzzing about an extramarital affair and a half-billion-dollar divorce battle, it's easy to get caught up in the drama.
Before we whip out our detective hats and start speculating, let's remember that what's presented on social media isn't always the unadulterated truth. It's essential to recognize that relationships are complex, and issues are best resolved privately. Jumping to conclusions only fuels the rumor mill and perpetuates unnecessary stress on the parties involved.
Now, let's talk about Keke Palmer and Darius Jackson.
Remember that time Jackson took to Twitter to criticize Palmer's outfit choice? Yep, that happened. Everyone had an opinion but both Keke and Darius kept quiet. There were even rumours that they broke up.
Fast forward to Keke's 30th birthday and well it seems the couple were never at odds. All the twitter threads and social media angst were for nothing.
All these points to the fact that staying out of such moments like this doesn't just benefit the celebrities but also helps us maintain a respectful distance from their lives.
So, why should we care about all this? Well, here's the thing: it's not just about respecting celebrities' privacy. It's about understanding that relationships—be they Hollywood glam or everyday mundane—are built on a foundation of trust, communication, and personal growth. Jumping into the midst of someone else's relationship drama is like throwing a wrench into a delicate machine.
Often, what we see in the media is a carefully curated version of reality, tailored to evoke certain emotions or reactions. Our involvement in these matters not only lacks a solid basis but also distracts us from our own lives and challenges.
Moreover, let's not underestimate the power of gossip culture in shaping our perceptions. The more we indulge in celebrity relationship dramas, the more normalized it becomes to judge others' relationships and scrutinize their choices.
We start to think of relationships as mere spectacles meant to entertain us rather than as deeply personal bonds that deserve our respect. The consequences of this mindset extend beyond the screen—our own interactions with friends and family can be tainted by the tendency to think that airing out grievances in public is acceptable.
The importance of minding our own business in the realm of relationship drama cannot be stressed enough. Whether it's Steve Harvey's purported divorce or Keke Palmer and Darius Jackson relationship drama, the best way we can show support is by granting them the privacy to handle their lives as they see fit.
By doing so, we preserve the sanctity of relationships and remind ourselves that the value of respect and empathy transcends screens and headlines.
So, the next time you're tempted to dive into the latest celebrity saga, take a moment to ask yourself: "Is this really my business?" Chances are, the answer is a resounding "No."