Every day on the Nigerian internet, there are people who keep our eyes glued to our phone screens as we read their rants, opinions, perspectives on political and social matters, etc. Sometimes, they are just downright ridiculous. We make it our job to take down the names of these noisemakers.
Here's our list from today:
1. Jude Feranmi
So, while we are still trying to understand why the Osun LG polls witnessed low turnout, another issue pops out.
A candidate for the KOWA party, Jude Feranmi, was accused of not picking the nomination form: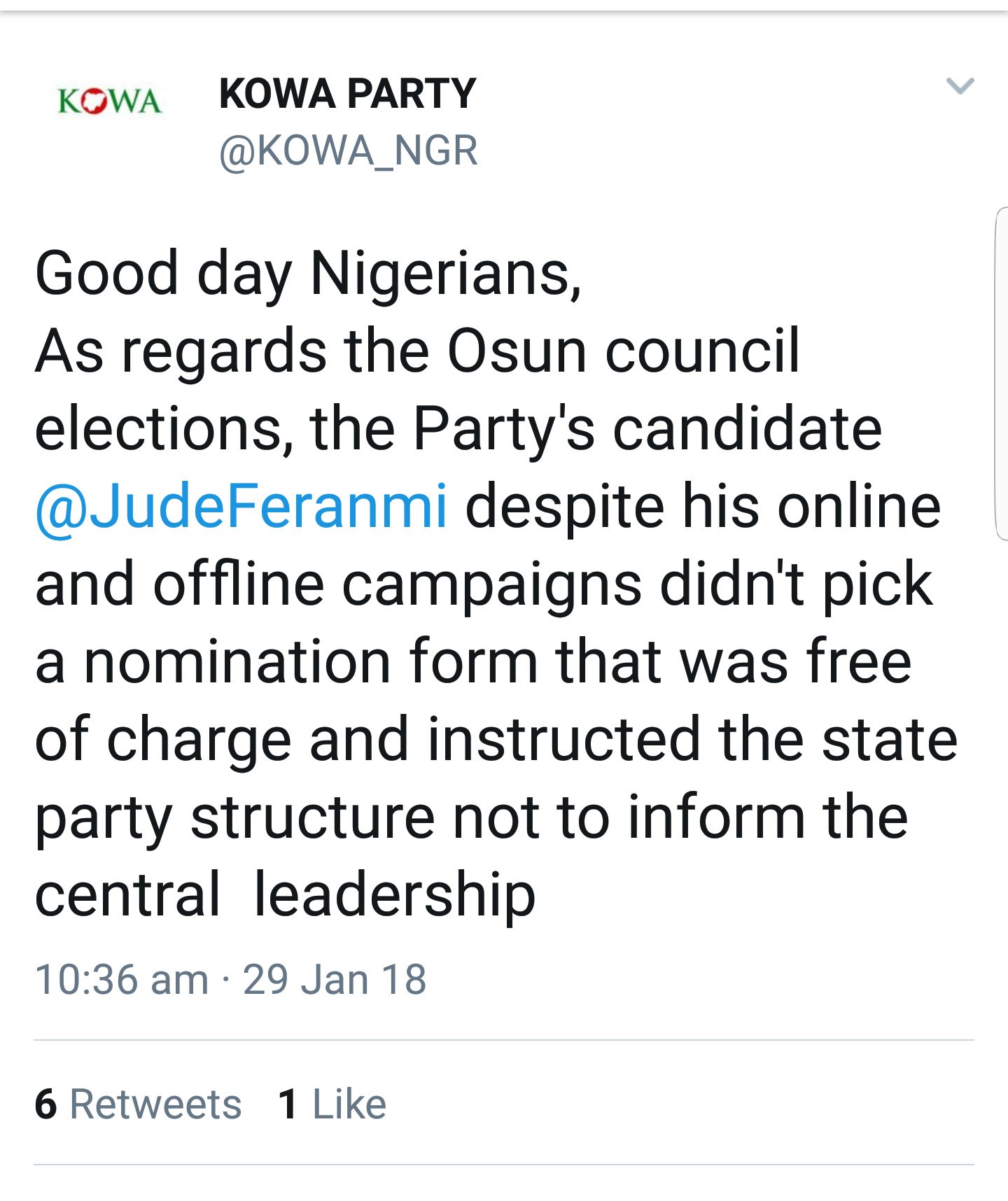 After questions were asked, a member of the Board of Trustees of the party – KOWA – wrote: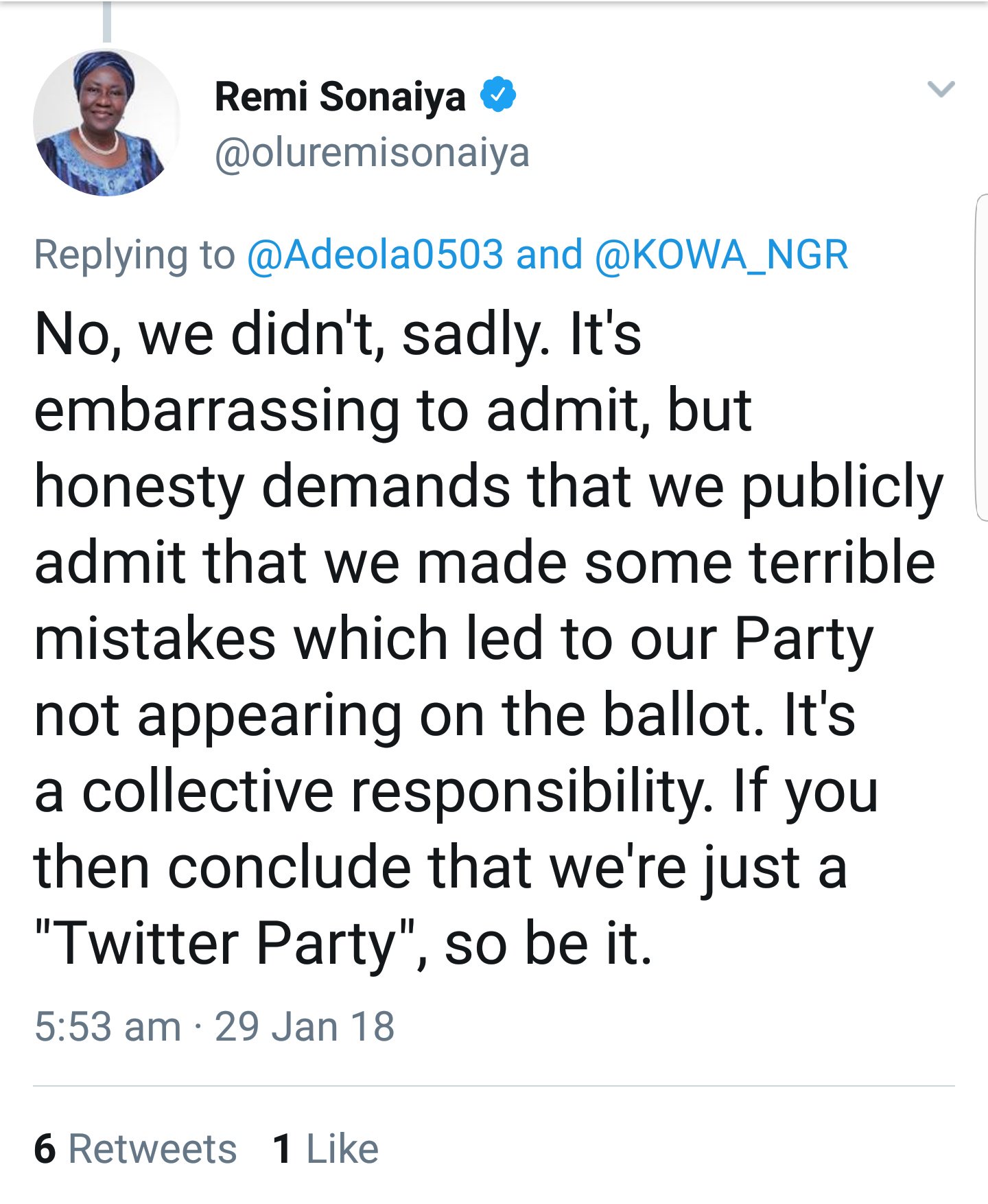 Then, Feranmi himself writes:
I & my team released a press statement stating in details what transpired in ensuring KOWA was not on the ballot

I stand by that statement

To ALL who supported and believe in our campaign, I APOLOGIZE for this embarrassment.

I still #BelieveInBetterhttps://t.co/hIWP9wTFlk

— JFK | #RaisingNewVoices (@JudeFeranmi) January 29, 2018
There is not just a movement to ensure that young people get involved in politics. There is also a movement to ensure that young people are left out

The tools they adopt are not just social media jobs and crumbs from the established patronage systems, they adopt institutions too

— JFK | #RaisingNewVoices (@JudeFeranmi) January 29, 2018
Like a friend said, It's sad that in 2018, fair elections still do not mean fair.

Those who insist that young people remain as their aides, bloggers and social media opinion shapers will stop at nothing to ensure those who resist that are systemically excluded.

— JFK | #RaisingNewVoices (@JudeFeranmi) January 29, 2018
If anyone believes that my party 'FORGOT' to submit my nomination, I am not sure how to convince you otherwise except to ask that you READ OUR STATEMENT AGAIN

In future elections, we will include in our strategy ALL possibilities

— JFK | #RaisingNewVoices (@JudeFeranmi) January 29, 2018
We'll learn the bitter lessons right now, especially that those we are up against will NOT stop at anything to deny us of a new and better Nigeria.

Changing Nigeria is a MARATHON and we've begun!#BelieveInBetter

— JFK | #RaisingNewVoices (@JudeFeranmi) January 29, 2018
2. Bruno Mars
After winning the Grammy for Album of the year with "24K Magic", Record of the year, Song of the year, Best R&B performance, Best R&B song, Best R&B album…
3. Bovi
And the conversation on the Dorcas-Taxify-driver saga continues.
4. Aisha Yesufu
This basket of tomatoes was bought in Kaduna for about 2k. In the next few months when rain starts it would be about 20k for same basket.
How do we break this yearly cycle?
Preservation?! Electricity?! Green house farming?! Solutions people. We need soluutions! pic.twitter.com/bjOy74mCDu

— Aisha Yesufu (@AishaYesufu) January 28, 2018
From basket to freezer. Washed, squeezed, bagged and frozed. My short term solution. We do need a long term solution. More to go in including attarubu, tattashe and others.
Wetin man pikin go do nah! pic.twitter.com/oRhLirbDFJ

— Aisha Yesufu (@AishaYesufu) January 29, 2018
Actually, so many things need long term solutions. Like the annual fuel scarcity.
5. Aminu Gamawa
Ganduje was Governor Kwankwaso's deputy twice (1999-2003 & 2011-2015). He was also special adviser to Kwankwaso when Kwankwaso was defence minister (2003-2007). Kwankwaso paved way for Ganduje to succeed him as Governor in 2015. The two were very close friends. What went wrong? pic.twitter.com/SKEECYO87N

— Dr. Aminu Gamawa (@aminugamawa) January 29, 2018
Valid question. It seems the hatred has run too deep than can be repaired.
6. Korede Bello
You don't have to run after money anymore. When your motive for having money is not for selfish reasons God will make you rich. Chase after God instead https://t.co/2pkDE9PeO2

— Korayday Bello (@koredebello) January 29, 2018
The singer giving relevant advise to:
Not been able to retire at 50…..don't wish to keep running after money when am 50.

— Temitope (@Millishield) January 29, 2018
7. Kate Henshaw
When you resort to invectives just to make your point in an argument, it just shows the state of your mind and soul.. pity… you are then not worth engaging! B & D… Block n Delete. Life goes on….

— Kate Henshaw (@HenshawKate) January 29, 2018
Nothing more true…"it shows the state of your mind". It is not a street fight, it is an argument where both parties should be learning from each other. Not some argument among two individuals who use loathful language to explain a point.