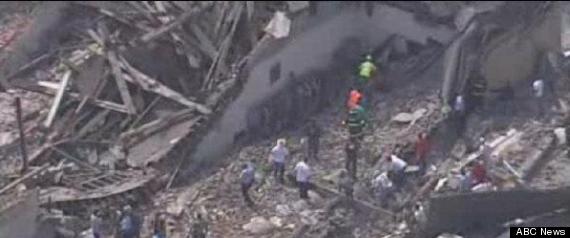 A building collapsed in the Center City neighborhood of Philadelphia Wednesday morning, trapping several people under the rubble.
The four-story structure crumbled at the corner of 22nd and Market streets at about 10:45 a.m. Fire officials told ABC News that eight to 10 people are believed to be trapped. At least three people have been pulled from the debris, according to FOX 29.
It's yet unclear what caused the collapse, though CBS News reports that the building and an adjacent structure were being demolished at the time. Emergency crews are at the scene, including four search dogs.
The building was connected to a Salvation Army Thrift Store on its southeast corner. Part of the Salvation Army building caved in, bringing down what appears to be a converted row of homes attached to the back of the structure, ABC News reports.
People are being pulled out and taken away on stretchers, according to FOX 29. At least 10 people were transported to area hospitals. Their conditions are unknown at this time.