by Anike Jacobs
The biggest night in music — the Grammy Awards — took place last night and gave us plenty of amazing moments to talk about for weeks to come.
Here are some of our favorite moments from the show (in no particular order):
Kanye West's epic prank: During his first appearance at the Grammy Awards in six years, Kanye West did what he does best and caused a bit of controversy. The 'Only One' rapper actually reenacted his famous Taylor Swift diss last night, by pretending to interrupt Beck's Album Of The Year win when the 44-year-old singer beat Beyonce. After Beyonce lost the album of the year category to Beck's Morning Phase, Yeezy went up to the stage, making everyone (including Jay Z and Bey) freak out about whether he was going to pull a "Kanye" again. He then had a change of heart and didn't speak.
The Dream Team: With a whopping 46 Grammys between them, it's no surprise that Kanye West, Rihanna and Paul McCartney delivered THE performance of the night. Their live rendition of their new anthem "FourFiveSeconds" was so amazing!
The unstoppable trio's voices blended together in a surprisingly beautiful way when they joined forces to perform their upbeat new song.
Usher honours Stevie Wonder: Usher delivered a stunning performance of Stevie's hit song "If It's Magic." The most magical moment came when Stevie joined Usher on stage, playing the harmonica. The crowd went wild for Stevie's appearance, earning him a standing ovation. What an amazing surprise!
Mary J Blige and Sam Smith's performance:
Sam Smith made his Grammy Awards debut with a stellar performance of 'Stay With Me'. He sang his smash hit "Stay With Me" and it instantly became one of our favorite performances of the night!
Having Mary J. Blige sing alongside Sam was a total surprise, but a pleasant one at that. While the song is already amazing with just Sam's vocals, adding Mary to the mix gave the song an extra jolt of energy. We're huge fans of this collaboration!
When Rihanna embraced the little girls: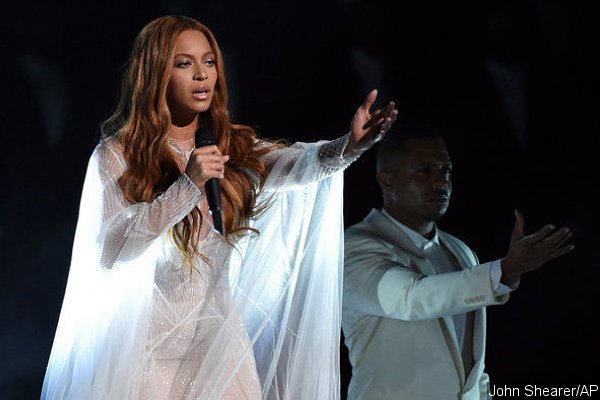 When President Barack Obama spoke on domestic violence and things went awkward between Rihanna and Chris Brown:
It was an awkward moment for Chris Brown and Rihanna when the 2015 Grammy Awards took a moment to bring awareness to domestic violence. Barack Obama came on the screen with a message about why it's important to speak up if you are a victim of domestic violence and then a woman took the stage to tell her own story but Rihanna was no where to be found.
It was a very intense moment when the show took a break to discuss the very important issue. Even more so, everyone began pointing out that it was the six-year anniversary of when Chris beat up Rihanna, leaving her badly injured.
Katty Perry's angelic performance:
After a very touching PSA from Obama and a domestic violence victim, Katy performed a touching song off her latest album Prism called "By the Grace of God." 
She looked angelic in an all white gown with a matching cape. She really left her heart on that stage.
In 2013, Katy opened up about the emotional tune admitting it was about a time when she contemplated suicide. "That song is evident of how tough it really was at a certain point. I asked myself, 'Do I want to endure? Should I continue living?" she told Billboard.
Arianna Grande
Madonna: The legendary singer was out for blood with her first live performance of the Diplo-produced Rebel Heart single "Living for Love."
She fought with the bulls, rolled out a gospel choir and was hoisted into the air over the course of her energetic time onstage.
Pharell performed his most loved song 'Happy'
Tony Bennett and Ladyy Gaga, had one heck of a night with an outstanding performance as well as a Grammy Award for Best Traditional Pop Vocals for their album "Cheek to Cheek."
Beyonce closed the night with a peaceful. yet powerful performanceof "Take My Hand, Precious Lord." Was it just us or did she look like an angel?
Queen Bey rocked the Grammy Awards again on Feb.8, after opening the show in 2014 with her performance of "Drunk In Love" by performing "Take My Hand Precious Lord".
The stunner wore a jaw dropping all white ensemble that showed off her flawless skin and perfect waves — all eyes were definitely on her. She then seamlessly segued into "Glory" performed by John Legend and Common from the Golden Globe Award winning film, Selma.
Definitely one of Beyoncé's best performance to date.
While her performances are always incredibly entertaining, but Queen Bey definitely stepped it up a notch this year by arriving by helicopter. We are used to seeing Beyoncé in major numbers showing off her amazing dance moves, it was nice to focus on her equally as great vocals.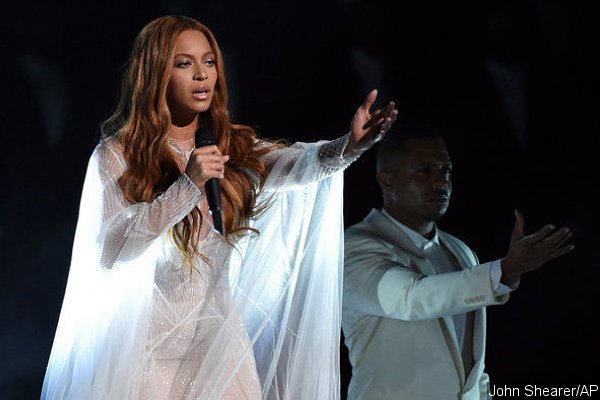 It was a great show, but there were way too many moments to pick just one as our favourite, so we'll leave that up to you.
Oh, by the way late comedian, writer, producer, and television host of the popular Fashion Police program on E-Channel, Joan Rivers was honoured with a posthumous award.
Joan's 'Diary of a Mad Diva' picked up the gong – albeit posthumously – for 'Best Spoken Word Album'. The late TV star beats James Franco, Jimmy Carter, John Waters, Elizabeth Warren, and Gloria Gaynor to the prestigious award this year. Born June 8, 1933, Joan Alexandra Molinsky, popularly known as Joan Rivers, died on September 4, 2014, from what coroners confirmed as 'brain damage from low blood oxygen'….