SERAP Tells Tinubu to Halt Life Pensions for Wike, Umahi, Others or Face Legal Action
ECOWAS Rejects Niger Junta's Three-Year Transition Plan
NDLEA Busts Lagos Drug Warehouse, Seizes N4.8bn Worth of Opioids
Tinubu Redeploys Oyetola, Tunji-Ojo, Renames Environment Ministry
El-Rufai Posts Cryptic Message After Senate Withholds Ministerial Confirmation
Across Nigeria's 36 states and the Federal Capital Territory, these are the five top Nigerian news stories you shouldn't miss
SERAP Tells Tinubu to Halt Life Pensions for Wike, Umahi, Others or Face Legal Action
In a recent statement, Socio-Economic Rights and Accountability Project (SERAP) has made a compelling call to President Bola Tinubu, urging him to take decisive action concerning the practice of former governors, currently serving as ministers, receiving life pensions and extravagant perks from their states. The organization's Deputy Director, Kolawole Oluwadare, delivered the message in a statement on Sunday.
SERAP has underlined the significance of halting this practice, requesting President Tinubu to publicly instruct these former governors to return any pensions and allowances they've acquired since leaving office back to the public treasury. This initiative primarily targets those who have transitioned from their gubernatorial roles into ministerial positions within the Tinubu administration.
Among the former governors turned ministers in question are Badaru Abubakar, Nyesom Wike, Bello Matawalle, Adegboyega Oyetola, David Umahi, Simon Lalong, Atiku Bagudu, and Ibrahim Geidam.
According to SERAP, this action is not only a matter of ethical and constitutional significance but is also in line with the current economic realities of the nation. The organization highlights that while some pensioners are left unpaid, these ex-governors, now holding ministerial offices, receive substantial severance benefits upon leaving their previous roles.
In a letter to President Tinubu, dated August 19, 2023, Kolawole Oluwadare emphasized the importance of ethical considerations in appointments to ministerial positions. SERAP asserts that the appointment of former governors who are still benefiting from life pensions is not only constitutionally questionable but also potentially undermines the integrity of the government's decision-making process.
The organization maintains that the conduct and honesty of appointed ministers reflect upon the president's leadership and ultimately influence public trust. SERAP's letter stresses the need to prioritize the common welfare of vulnerable Nigerians over the privileged lifestyle of a few politicians.
While SERAP acknowledges President Tinubu's constitutional power to make appointments, it asserts that exercising this power responsibly means ensuring that those appointed are in line with ethical and constitutional safeguards. Stopping former governors from receiving dual emoluments, SERAP contends, would be an appropriate use of presidential authority and a step toward fostering public confidence in the government's integrity.
SERAP further highlights the significance of constitutional oaths that public officials take upon assuming office. These oaths oblige public officials to act in the public interest, abstaining from activities inconsistent with the principles of the Constitution. The organization asserts that collecting life pensions while holding ministerial roles undermines this commitment and erodes public trust.
The states that are currently implementing life pension schemes for former governors include Jigawa, Kebbi, Ebonyi, Yobe, and Rivers. Despite these states struggling with financial difficulties, they continue to offer lavish benefits to former governors, including multiple cars, luxury housing, and additional perks.
ECOWAS Rejects Niger Junta's Three-Year Transition Plan
The Economic Community of West African States (ECOWAS) has firmly rejected the three-year power transition plan presented by the military junta of Niger Republic. This development comes as Abdel-Fatau Musah, the ECOWAS Commissioner for Political Affairs, Peace, and Security, conveyed the organization's stance in an interview with the BBC.
In a recent address, Abdourahmane Tiani, who self-declared as Niger Republic's head of state following a coup, announced a three-year timeline for a return to civilian rule. However, Tiani did not provide detailed information about the transition plan, only mentioning that the principles for the transition would be determined within the next 30 days during a dialogue hosted by the junta.
Tiani expressed that the intention of the junta is not to retain power indefinitely. He urged political parties to submit their visions for the transition within the stipulated 30-day period.
This announcement came after a meeting between the junta leader and an ECOWAS delegation, led by Abdulsalami Abubakar, a former head of state of Nigeria. In response to Tiani's proposal, ECOWAS Commissioner Musah emphasized that extended transition periods would no longer be accepted in the region. He underscored the urgency of returning power to civilian hands promptly, allowing the junta to focus on its primary responsibility of safeguarding Niger's territorial integrity.
Musah also emphasized the importance of the military's role in this situation. While Niger's junta leader expressed a desire to avoid conflict, he also stated that the nation would defend itself against foreign intervention if necessary.
NDLEA Busts Lagos Drug Warehouse, Seizes N4.8bn Worth of Opioids
The National Drug Law Enforcement Agency (NDLEA) has executed a series of extensive operations across various states, unearthing substantial quantities of illicit drugs with an estimated street value in the billions.
In Lagos, the agency discovered a hidden warehouse nestled within the bustling International Trade Fair Complex, Alaba, Ojo area, leading to the confiscation of illicit drugs worth multi-billion naira. NDLEA spokesperson Femi Babafemi unveiled this operation in a statement on Sunday.
The seized contraband includes 1.4 million pills of tramadol 225mg, weighing 826 kilograms, 3.2 million pills of codeine with a total weight of 3,360 kilograms, and 2,841 cartons of codeine syrup containing 284,100 bottles, equivalent to 28,410 liters of the psychoactive substance. The combined street value of this haul is a staggering Four Billion Eight Hundred and Twenty Million Five Hundred Thousand Naira (N4,820,500,000).
The warehouse owner, a wanted billionaire drug baron, remains at large, while his Chief Security Officer, Paulinus Ojukwu, has been apprehended and is aiding ongoing investigations.
The Lagos operation follows closely on the heels of the arrest of Faith Ebele Nwankwo, a drug baroness, who was caught with a substantial quantity of tramadol pills. The NDLEA's relentless efforts have also led to the interception of counterfeit Twenty Million US Dollar notes ($20 million) and the seizure of significant drug consignments in the Federal Capital Territory, Sokoto, Osun, Imo, and Enugu states.
Brig. Gen. Mohamed Buba Marwa (Retd), Chairman/Chief Executive Officer of NDLEA, expressed his commendation for the professionalism displayed by the agency's personnel across various operations. He lauded the crackdown on drug cartels, urging intensified efforts to ensure that those involved in illicit drug trade are held accountable for their actions.
Additionally, Marwa emphasized the importance of bringing the wanted billionaire drug baron to justice, highlighting NDLEA's commitment to rooting out drug-related criminal activities and securing the nation's wellbeing.
Tinubu Redeploys Oyetola, Tunji-Ojo, Renames Environment Ministry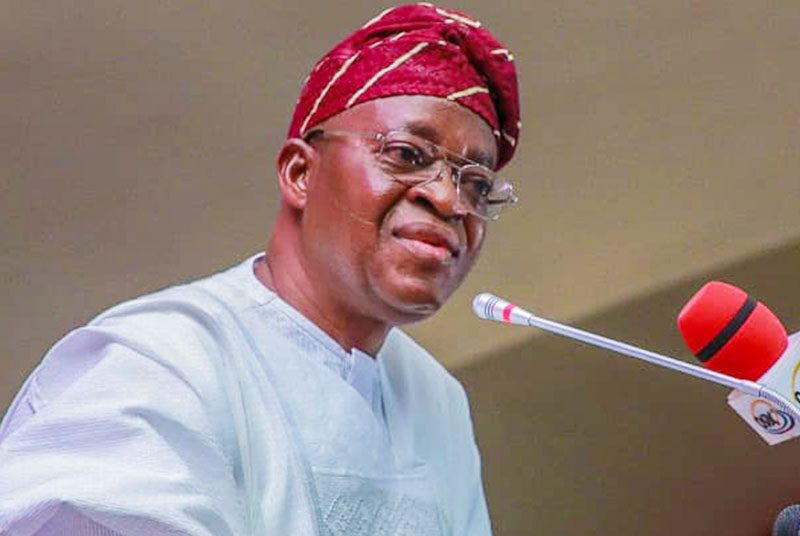 In a bid to fine-tune the allocation of ministerial responsibilities and harness the specific expertise of minister-designates, President Bola Tinubu has announced a cabinet reshuffle that strategically redeployed key individuals to better align with ministry functions.
Former Governor of Osun State and minister-designate, Adegboyega Oyetola, has been reassigned from the Ministry of Transportation to the Ministry of Marine and Blue Economy. This move emphasizes the administration's focus on harnessing the potential of the maritime sector for economic growth and sustainable development.
Likewise, minister-designate Abubakar Momoh has been shifted from the Federal Ministry of Youth to the Federal Ministry of Niger Delta Development, reflecting the administration's dedication to optimizing efforts in the Niger Delta region.
The transition of portfolios will take effect immediately, ensuring a seamless transfer of responsibilities and a swift continuation of ministry functions. Furthermore, the Federal Ministry of Youth is set to welcome a new Minister-Designate in the near future, aligning with President Tinubu's commitment to maintaining efficient leadership structures.
Additional changes involve the redeployment of minister-designate Bunmi Tunji-Ojo to the Ministry of Interior, showcasing a strategic alignment of expertise with ministry objectives. In another key move, Sa'idu Alkali has been redeployed to the Ministry of Transportation, indicating a shift in responsibilities to leverage his skillset more effectively.
Within the oil and gas sector, President Tinubu has executed a pivotal adjustment by consolidating the responsibilities of both Ministers of State under the Federal Ministry of Petroleum Resources. Sen. Heineken Lokpobiri assumes the role of Hon. Minister of State (Oil), Petroleum Resources, while Hon. Ekperipe Ekpo takes up the mantle of Hon. Minister of State (Gas), Petroleum Resources. This consolidation is anticipated to streamline efforts and enhance coordination within the vital oil and gas sector.
Moreover, in a move that reflects the administration's commitment to environmental concerns, the Federal Ministry of Environment and Ecological Management has been renamed the Federal Ministry of Environment, signifying a continued dedication to safeguarding the nation's natural resources.
President Tinubu's meticulous reshuffle comes on the heels of the recent portfolio assignments for the 45 ministers-designate.
El-Rufai Posts Cryptic Message After Senate Withholds Ministerial Confirmation
Former Governor of Kaduna State, Nasir El-Rufai, on Sunday, posted a cryptic message on social media weeks after his ministerial nomination was not confirmed by the Senate.
In a message on X, formerly known as Twitter, the ex-governor dropped lyrics of 'Who The Cap Fit' by the late Jamaican singer, Bob Marley.
El-Rufai said, "Bob Marley of blessed memory is one of most talented musicians of all time. My love for reggae music is connected with his songs and music."
The ex-governor thereafter posted lyrics of the song:
"Man to man is so unjust, children
"Ya don't know who to trust
"Your worst enemy could be your best friend
"And your best friend, your worse enemy
"Some will eat and drink with you
"(Some will eat and drink with you)
"Then behind them su-su 'pon you
"Then behind them su-su 'pon you)
"Only your friend know your secrets
"So only he could reveal it
"And who the cap fit, let them wear it!
"Who the cap fit, let them wear it!"
El-Rufai was one of the 48 ministerial nominees of President Bola Tinubu sent to the Senate for confirmation.
The Senate approved and confirmed the ministerial nominations of 45 appointees of the President but withheld the confirmation of El-Rufai and two others over "security clearance".
On Tuesday, August 1, 2023, the Senate screened El-Rufai, a two-term governor of Kaduna from May 2015 to May 2023, and one of the nine ex-governors in the ministerial list of the President.
During El-Rufai's screening on the floor of the Senate, Senator Karimi Sunday from Kogi West Senatorial District raised a "very strong petition" against the ex-Kaduna governor that bothered on insecurity, unity, and national cohesion.
Sunday, who praised El-Rufai's performance as Kaduna governor and minister of the Federal Capital Territory (FCT) some 20 years ago, said, "but I have a very strong petition against you that bothers on security, unity and cohesiveness of the Nigerian nation and I think that petition has to be considered along this screening exercise".
Senate President Godswill Akpabio, however, prevented El-Rufai from responding to the petition.
El-Rufai was reportedly seen at the Villa after he wasn't confirmed by the Senate. He also reportedly withdrew his interest in becoming a minister in the Tinubu administration.
The President, last week, assigned portfolios for the 45 ministers-designate and reserved the Minister of Environment and Ecological Management, for Kaduna State.