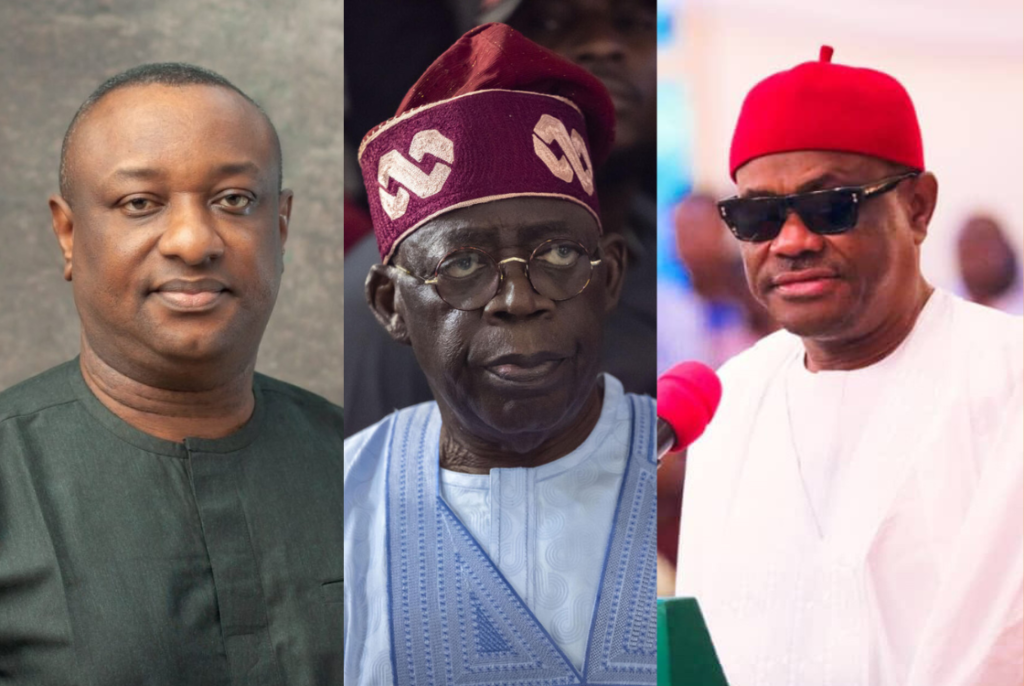 President Tinubu Unveils Ministerial Portfolios: Wike to Lead FCT, Keyamo Heads Aviation
Patience Jonathan Extends Solidarity to First Lady Remi Tinubu
We Seized N57m Worth of Illicit Drugs Under Eight Months in Abuja
Atiku Visits Kwankwaso In Abuja
NNPC Secures $3 Billion Crude Repayment Loan for Naira Support and Forex Stability
Across Nigeria's 36 states and the Federal Capital Territory, these are the five top Nigerian news stories you shouldn't miss
President Tinubu Unveils Ministerial Portfolios: Wike to Lead FCT, Keyamo Heads Aviation
President Bola Tinubu has unveiled the allocation of portfolios for the 45 ministerial nominees who have successfully passed through confirmation.
Among the key appointments is former Rivers State governor, Nyesom Wike, who has been entrusted with the helm of the Ministry of Federal Capital Territory (FCT). Accompanying him in the lineup is legal luminary Festus Keyamo, who is set to steer the Ministry of Aviation.
The assortment of responsibilities stretches wide, encompassing sectors crucial for the nation's growth. The roster includes Wale Edun, who takes the mantle as the Finance and Coordinating Minister of the Economy, Adegboyega Oyetola who is entrusted with the Ministry of Transportation, and David Umahi, who undertakes the Ministry of Works. The Ministry of Aviation and Aerospace Development will be manned by Festus Keyamo, while the Ministry of Humanitarian Affairs and Poverty Alleviation finds a dedicated head in Betta Edu.
The unveiled list in its entirety is as follows:
Minister of Communications, Innovation and Digital Economy: Bosun Tijani
Minister of State, Environment and Ecological Management: Ishak Salaco
Minister of Marine and Blue Economy: Bunmi Tunji
Minister of Power: Adedayo Adelabu
Minister of State, Health and Social Welfare: Tunisia Alausa
Minister of Solid Minerals Development: Dele Alake
Minister of Tourism: Lola Ade-John
Minister of Industry, Trade and Investment: Doris Anite
Minister of Innovation Science and Technology: Uche Nnaji
Minister of State, Labour and Employment: Nkiruka Onyejeocha
Minister of Women Affairs: Uju Kennedy
Minister of Youth: Abubakar Momoh
Minister of State, Gas Resources: Ekperikpe Ekpo
Minister of State, Petroleum Resources: Heineken Lokpobiri
Minister of Sports Development: John Enoh
Minister of Art, Culture and the Creative Economy: Hannatu Musawa
Minister of Defence: Mohammed Badaru
Minister of State Defence: Bello Matawalle
Minister of State Education: Yusuf T. Sunumu
Minister of Housing and Urban Development: Ahmed M. Dangiwa
Minister of State, Housing and Urban Development: Abdullah T. Gwarzo
Minister of Budget and Economic Planning: Atiku Bagudu
Minister of State, Federal Capital Territory: Mairiga Mahmud
Minister of State, Water Resources and Sanitation: Bello M. Goronyo
Minister of Agriculture and Food Security: Abubakar Kyar
Minister of Education: Tahir Maman
Minister of Interior: Sa'Idu A. Alkali
Minister of Foreign Affairs: Yusuf M. Tuggar
Coordinating Minister of Health and Social Welfare: Ali Pate
Minister of Police Affairs: Ibrahim Geidam
Minister of State, Steel Development: U. Maigari Ahmadu
Minister of Steel Development: Shuaibu A. Audu
Minister of Information and National Orientation: Muhammed Idris
Attorney General of the Federation and Minister of Justice: Lateef Fagbemi
Minister of Labour and Employment: Simon B. Lalong
Minister of State, Police Affairs: Imaan Sulaiman-Ibrahim
Minister of Special Duties and Inter-Govermental Affairs: Zephaniah Jisalo
Minister of Water Resources and Sanitation: Joseph Utsev
Minister of State, Agriculture and Food Security: Aliyu Sabi Abdullahi
Patience Jonathan Extends Solidarity to First Lady Remi Tinubu
Mrs. Patience Jonathan, the former First Lady and wife of ex-President Goodluck Jonathan, has voiced her unwavering support for the current First Lady, Senator Remi Tinubu.
In a poignant gesture, Mrs. Jonathan visited Mrs. Tinubu at the Presidential Villa in Abuja on Wednesday, emphasizing the importance of collective support and collaboration for the advancement of Nigeria.
In her resolute address, Mrs. Jonathan shared her conviction that Nigerians are a united entity, bound by the shared destiny of their nation. She articulated, "I have come here to encourage you, to support you, because we are one country and our country must move forward and for the country to be better because it's our country."
Directly addressing Mrs. Tinubu, Mrs. Jonathan affirmed the essential nature of Nigeria's unity. "We have no other country than Nigeria. We have no other place to go; we must support you. We must support you to make sure you achieve what you're here for. And when you achieve, we will have achieved. So, Nigeria must move forward," she declared.
Mrs. Jonathan extended a call to action to Nigerian women, urging them to rally behind Mrs. Tinubu and contribute to the betterment of the country. She expressed her confidence in Mrs. Tinubu's ability to unite and lead, citing her past record of inclusiveness. "I know that my sister can carry the women along. So, (now that) she's a first lady, the sky will be her limit. She will carry us along as she will move us forward. We, Nigerian women, will come out en masse and support this government and support her. The sky will be our limit," Mrs. Jonathan asserted.
Mrs. Tinubu, in response, conveyed her gratitude for the visit, acknowledging the significance of the gesture. She highlighted the collaborative nature of their conversation, which aimed at charting a course for the nation's advancement. "We thank God that she's here today to pay a solidarity visit and for us to have talks on the way to move our nation forward and I appreciate her visit this afternoon," Mrs. Tinubu expressed. She also recognized and valued the ongoing support and guidance provided by her predecessor.
We Seized N57m Worth of Illicit Drugs Under Eight Months in Abuja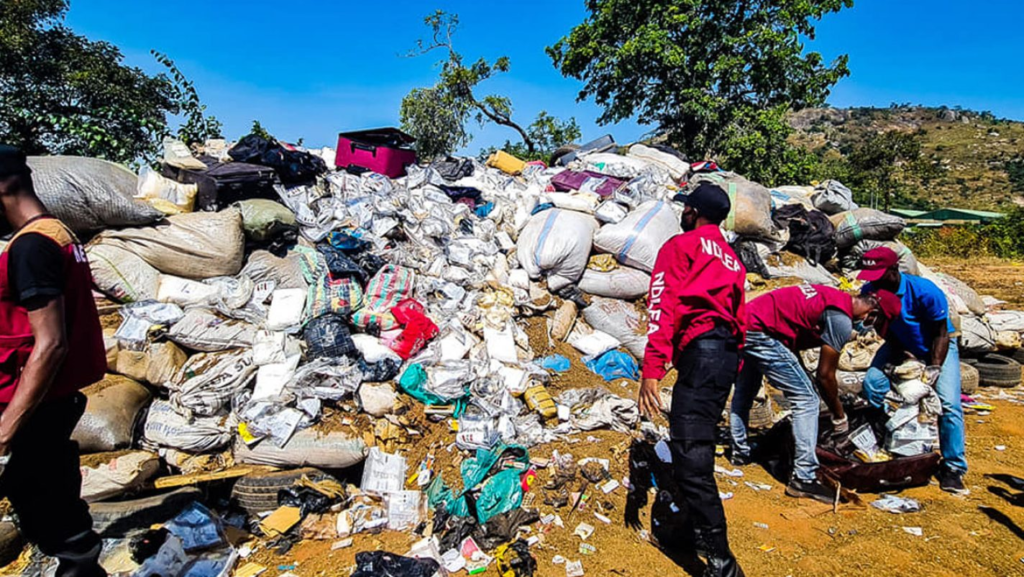 The Federal Capital Territory (FCT) Command of the National Drug Law Enforcement Agency (NDLEA) has achieved a significant milestone in its fight against illicit drug activities. Between January and August, the command intercepted an impressive 3,091.032 kg of illicit drugs, according to Kabir Tsakuwa, the NDLEA FCT Commandant. In an exclusive interview with the News Agency of Nigeria (NAN) on Wednesday in Abuja, Tsakuwa provided insight into the agency's efforts and successes in curbing the illegal drug trade.
The seized drugs, with an estimated value of over N56.9 million, encompassed a range of substances that included cannabis sativa, cocaine, methamphetamine, heroin, tramadol, rohypnol, diazepam, ecstasy, and megadon. Among these, cannabis sativa accounted for the largest proportion of the total seizure, underscoring its prevalence in the illegal drug market.
Tsakuwa revealed that a total of 343 individuals suspected of drug-related offenses were apprehended during the period, comprising 328 males and 15 females. Of these, 188 offenders faced prosecution, and within the scope of the legal process, 126 individuals were convicted and handed various prison sentences.
Delving into the specifics of the confiscated substances, Tsakuwa elucidated, "Drugs seized were cannabis sativa 3,022.529 kilograms, cocaine 0.114 kilograms, Methamphetamine 1.25 kilograms, Heroin 0.0021 kilograms." Additionally, the command also seized suspected quantities of Tramadol (18.578 kilograms), Rohypnol (1.195 kilograms), Diazepam (4.471 kilograms), Ecstasy (0.113 kilograms), and Megadon (0.263 kilograms). The total monetary value of these drugs is estimated to be around N56,903,600.
The NDLEA FCT Commandant highlighted the agency's multifaceted approach, including rehabilitation and counseling, to address the drug-related challenges in the region. Within the eight-month period, 33 individuals grappling with drug use disorder underwent rehabilitation, while 102 drug users received counseling and were subsequently released.
Looking ahead, Tsakuwa emphasized the importance of collaboration with other security agencies operating within the FCT. The NDLEA plans to work in synergy to dislodge shanties and notorious drug hotspots, further reinforcing their commitment to combating the illicit drug trade and ensuring the safety and well-being of the community.
Atiku Visits Kwankwaso In Abuja
Former Vice President and Presidential candidate of the Peoples Democratic Party (PDP) in the February 25, 2023 elections, Atiku Abubakar, has made a significant move in the political landscape by paying a "fraternal visit" to Rabiu Kwankwaso, a prominent figure within the New Nigeria Peoples Party (NNPP). Kwankwaso, a former governor of Kano State, took to his verified X account (formerly known as Twitter) to announce this tête-à-tête, revealing that the meeting took place at his residence in Abuja on Tuesday evening.
This meeting between two influential northern politicians transpired against the backdrop of the ongoing presidential tribunal sessions in Abuja. Atiku, along with his co-challenger Peter Obi from the Labour Party (LP), is challenging the victory of President Bola Tinubu of the All Progressives Congress (APC) in the recent presidential poll.
The timing of this encounter, intertwined with legal deliberations and political dynamics, raises curiosity. Notably, Kwankwaso's visit to President Tinubu at the Villa since his inauguration on May 29, 2023, coupled with his political dynamics with now APC National Chairman, Abdullahi Ganduje, creates a multifaceted backdrop for interpreting the visit.
The absence of Kwankwaso's name on the list of ministerial nominees appointed by Tinubu and confirmed by the Senate also sparks speculations regarding the relationship between these two political heavyweights. The selection of former Rivers State governor, Nyesom Wike, from the opposition PDP as a ministerial nominee further adds intrigue to this narrative.
Ganduje, who was once Kwankwaso's deputy, rose to the governorship after their political paths diverged post-2015 elections. The gubernatorial poll of March 18, 2023, saw Kwankwaso's candidate, Yusuf Kabir, secure victory, signaling a shift in political power dynamics in Kano.
In the February 25 presidential poll, Kwankwaso clinched the fourth position, asserting his strength within his home state, Kano, where he secured 1,496,687 votes. In comparison, Atiku garnered 6,984,520 votes, while Obi achieved 6,101,533 votes. The eventual winner, Tinubu, secured 8,794,726 votes out of the total 24,025,940 cast.
NNPC Secures $3 Billion Crude Repayment Loan for Naira Support and Forex Stability
The Nigerian National Petroleum Corporation (NNPC) Limited has successfully obtained a crucial $3 billion emergency crude repayment loan to bolster the naira's strength and establish stability within the foreign exchange market. This strategic move by NNPC Limited was facilitated in collaboration with the African Export-Import Bank (Afreximbank), headquartered in Cairo, Egypt.
While intricate details are currently limited, insights suggest that the loan will be repaid with crude oil at an interest rate ranging from eight percent to 11 percent. A succinct statement issued by NNPC on Wednesday confirmed the development, emphasizing its significance in supporting the federal government's fiscal and monetary policy reforms aimed at stabilizing the exchange rate market.
According to Ajuri Ngelale, Special Adviser to President Bola Tinubu on media and publicity, this new influx of foreign exchange accumulation is designed to empower NNPC Limited to prepay taxes and royalties, while concurrently providing the federal government with vital dollar liquidity. The strategic allocation of these funds aims to stabilize the naira through gradual releases based on the government's specific needs.
This innovative financial move holds multifaceted benefits. Firstly, it steers Nigeria away from the necessity of seeking loans from international entities like the International Monetary Fund (IMF), thereby preserving the country's financial sovereignty. Additionally, the loan's implications are poised to mitigate the drastic depreciation of the local currency, which had encountered significant fluctuations against the dollar.
The timing of this development is noteworthy, considering the recent historic lows witnessed by the naira, which closed at N950 to the dollar at the parallel market. These dynamics prompted a meeting between President Bola Tinubu and the acting governor of the Central Bank of Nigeria (CBN), Folashodun Shonubi. In response, the apex bank articulated its forthcoming strategies to restore and stabilize the naira.
As a testament to the positive impact of this loan, the naira exhibited a recovery, appreciating from N950 per dollar to N890 per dollar within a brief timeframe.
It is crucial to note that Nigeria, as a major oil-producing nation, remains a significant player in the global energy landscape. According to data from the Organisation of Petroleum Exporting Countries (OPEC), the country produced an average of 1.255 million barrels of oil daily in July 2023.