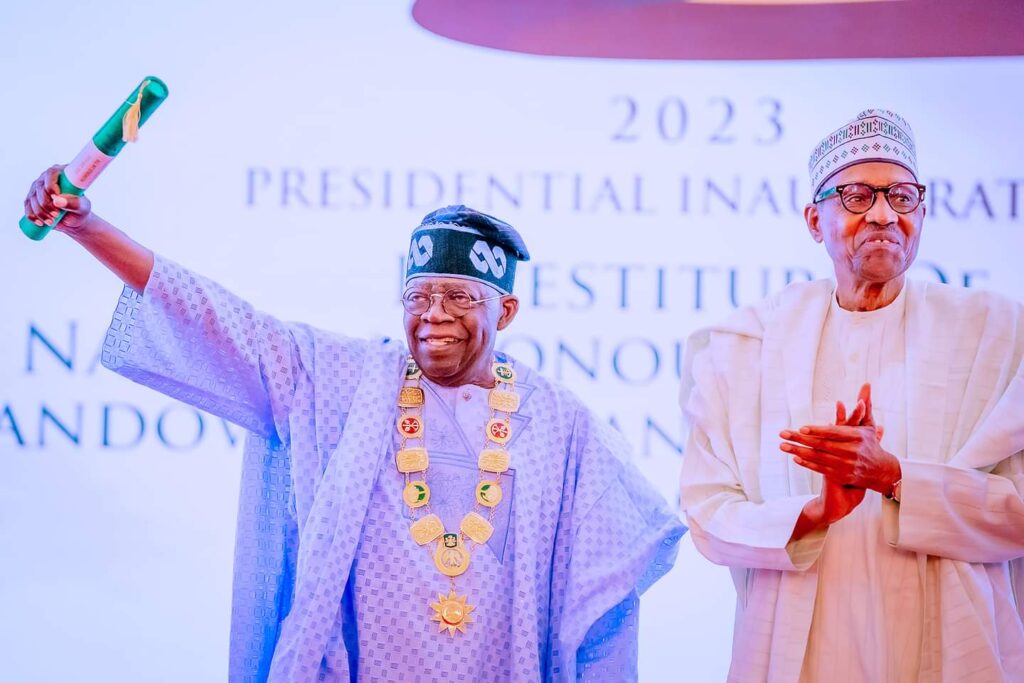 Nigerians Made Wise Decision by Electing You, Buhari Tells Tinubu
I Had No Education Sector Knowledge Before Appointment as Minister, Adamu Adamu Admits
Osinbajo Tours Villa with Shettima prior to Inauguration
Lagos Unveils Electric Mass Transit Buses
Shagari: Tinubu Can Recreate Lagos Success with the Right Team
Across Nigeria's 36 states and the Federal Capital Territory, these are the five top Nigerian news stories you shouldn't miss
Nigerians Made Wise Decision by Electing You, Buhari Tells Tinubu
President Muhammadu Buhari, in a recent statement issued by Femi Adesina, the presidential spokesperson, expressed his appreciation for the wise decision made by Nigerians in electing Bola Tinubu as his successor.
The President conferred the Grand Commander of the Federal Republic (GCFR) honor upon Tinubu, emphasizing the significance of this prestigious recognition. As the highest honor in the country, GCFR is traditionally bestowed upon presidents.
Read Also: President Buhari Bestows GCFR on Tinubu and GCON on Shettima
Having served his term, President Buhari acknowledged the conclusion of his own race and stated that it was time for the baton to be passed to Tinubu. Buhari, who was first elected in 2015 and re-elected in 2019, will complete his second term on May 29, coinciding with Tinubu's inauguration.
Speaking about Tinubu's victory in the presidential election held on February 25, President Buhari described it as well-deserved.
In his words, "The Nigerian people have recognized your leadership qualities, political acumen, and passion to serve our great nation, and have entrusted you with the burden of governing our beloved country."
Buhari expressed his confidence in Tinubu's ability to lead Nigeria to new heights and commended the Nigerian people for making a wise choice in electing him.
The President conveyed his optimism that Tinubu would serve Nigeria with utmost dedication and integrity. While acknowledging the challenges that come with leadership responsibilities, Buhari advised Tinubu to confront them with courage, wisdom, and compassion. Stressing the importance of good governance, transparency, and accountability, Buhari emphasized that these principles serve as the foundation for the nation's progress and development.
Recognizing Tinubu's remarkable achievements in various capacities, Buhari highlighted his extensive and illustrious track record of public service.
The President praised Tinubu's transformative leadership in Lagos state, where he left an indelible mark in crucial areas such as infrastructure, education, healthcare, and economic development. Buhari expressed his confidence in Tinubu's dedication to the welfare of the Nigerian people and his belief that Nigeria would thrive under his leadership.
I Had No Education Sector Knowledge Before Appointment as Minister, Adamu Adamu Admits
During a valedictory session with ministry officials and parastatal heads, Adamu Adamu, the Minister of Education, revealed that he had no prior knowledge of the education sector when President Muhammadu Buhari appointed him in 2015.
Adamu acknowledged seeking the assistance of individuals more familiar with the sector to develop the necessary policy documents for the ministry.
He expressed his gratitude to those who supported him, stating, "I didn't know anything about the education sector when I was appointed minister except superficially. But when Buhari decided to make me Minister of Education, I called some people to assist me in working on a policy document on education because I was a novice in the sector. I shared my ideas with them, and they greatly assisted me. I remain grateful to them for these years."
Reflecting on his experience, Adamu expressed his appreciation to President Buhari for entrusting him with the position, even when he was seemingly unprepared. He recalled his surprise when the President announced his name, mentioning their collaborative work from 2015 to 2019.
In 2019, Adamu approached President Buhari and suggested a cabinet reshuffle, considering that it was uncommon in society for ministers to serve for four years without changes. Although he knew it would be challenging for the President to implement, he offered to bring in individuals who could better fulfill the ministerial role, both for himself and other serving ministers.
Osinbajo Tours Villa with Shettima prior to Inauguration
In preparation for the upcoming May 29 inauguration, Vice-President Yemi Osinbajo took Kashim Shettima, his successor, on a familiarisation tour of the presidential villa on Thursday. Following the tour, Shettima expressed his appreciation to Osinbajo for the gesture of showing him around the offices as a courtesy.
Shettima, the Vice-President-elect, stated that his visit to the presidential villa was aimed at exchanging ideas with Osinbajo on how to propel the nation forward.
He conveyed his gratitude to Osinbajo for extending the courtesy of the tour, saying, "On the instance of the Vice-President, who is a friend and a contemporary, I came here just to exchange ideas on how to move the nation forward. He took me round the offices out of courtesy, and I want to commend him and thank him for extending that courtesy to me."
Regarding the presidency of Bola Tinubu, Shettima expressed confidence that Tinubu would hit the ground running immediately after the inauguration on May 29. While acknowledging his position as the Vice-President-elect, Shettima refrained from making bold proclamations but emphasized the need for swift action.
He shared, "He does not have the luxury of time. I will be the Vice-President. I don't want to be presumptuous or make a loud proclamation. But my interaction with him (Tinubu) has shown that we will hit the ground running from day one. I believe it is a humbling experience. It is a call to national duty, and by God's grace, we need the support of all of you, especially the media, to succeed. So, I wish to employ all of you to join us in building a new Nigeria."
Lagos Unveils Electric Mass Transit Buses
Lagos, joining the league of global cities embracing electric vehicles, has introduced electric-mass transit buses through a partnership between Oando Clean Energy Limited (OCEL) and the Lagos Metropolitan Area Transport Authority (LAMATA).
The objective of this initiative is to revolutionize the state's public transportation system by developing and implementing a pathway towards a carbon-free mobility ecosystem.
The introduction of electric buses commenced with a three-month Proof-of-Concept (PoC) phase, designed to assess the viability of electric vehicles for mass transportation in Lagos State. Following this phase, there will be a pilot program that includes an expanded fleet and bus routes, leading to eventual nationwide deployment, generating employment opportunities for more than 30,000 Nigerians.
Abimbola Akinoja, the Managing Director of LAMATA, expressed enthusiasm about the initiative, stating, "This initiative is a significant aspect of our vision for transportation in Lagos State. We aspire to have a clean and efficient transportation system. I am delighted that in just over a year since Oando Clean Energy approached us to explore the possibility of collaborating on the deployment of electric buses, we have signed an MoU, with a key deliverable being the implementation of a PoC that will enable us to integrate electric buses into our ecosystem."
Dr. Ainojie Irune, the President/Chief Executive Officer of OCEL, highlighted that the concept aims to revolutionize Nigeria's transport sector. The introduction of electric-mass transit buses is a crucial step towards a sustainable and environmentally friendly transportation system in Lagos.
Shagari: Tinubu Can Recreate Lagos Success with the Right Team
Former Sokoto State Deputy Governor, Mukhtar Shagari, expresses confidence in President-elect Bola Tinubu's potential success as President, emphasizing the importance of surrounding oneself with the right team of people who possess both talent and integrity. Shagari shared his views during an interview on Channels Television's Politics Today.
Shagari drew an analogy to a football team, stating that even a talented captain cannot win without the support of skilled players. Therefore, for Tinubu to achieve success at the national level as he did in Lagos, Shagari stressed the need for him to assemble a capable team and select individuals with integrity.
Highlighting key areas for Tinubu's attention upon assuming office, Shagari cautioned against falling prey to sycophants and advised prioritizing national security and the economy.
He urged Tinubu to be cautious of individuals who may only tell him what they think he wants to hear.
Additionally, Shagari emphasized the significance of addressing ongoing security challenges and focusing on economic development, suggesting that Tinubu's expertise in these areas would be instrumental.
Tinubu emerged as the winner of the February 25 presidential election, as announced by the Independent National Electoral Commission (INEC). His inauguration is scheduled for Monday, May 29, 2023, succeeding President Muhammadu Buhari, who was elected in 2015 and re-elected in 2019.